Hatch Embroidery DigitizerHatch Embroidery is the best machine embroidery software available today, designed specifically for the hobbyist and home em
Hatch Embroidery Digitizer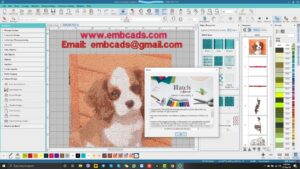 Hatch Embroidery is the best machine embroidery software available today, designed specifically for the hobbyist and home embroiderer. It includes all the features and tools you need to create simple or extravagant embroidery designs.
Designed for beginner and experienced digitizers, you get manual and auto-digitizing, powerful editing with endless layout options, appliqué, resizing, recoloring, multi-hooping, creating offset outlines, sequencing, monogramming, world class lettering and so much more. The possibilities are limitless.
Achieve professional quality embroidery results every time, gaining valuable advice and expert tips from our dedicated team and helpful community. Hatch Embroidery Digitizer does it all, now with new and enhanced features.
Here Watch Wilcom Hatch V2.1 Demonstration Video
Contact US For For Info
Here Is Our Website: https://embcads.com/
E-Mail: [email protected]
E-Mail: [email protected]
Skype: embcads
Like Us On Facebook
https://www.facebook.com/EmbCads/
Join Our Facebook Group
https://www.facebook.com/groups/EmbCads
Follow Us On Twitter
https://twitter.com/EmbCads