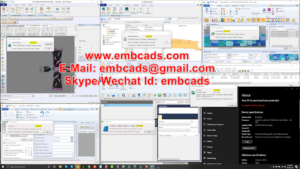 If You are Interested Than Get In Contact With Us !
Website: https://www.embcads.com
E-Mail:
[email protected]
E-Mail:
[email protected]
For Chat Skype ID: embcads
For Chat WeChat ID: embcads
Like Our Facebook Page
Facebook Page: https://fb.com/embcads
Join Our Facebook Group
Facebook Page: https://fb.com/groups/embcads
AccuMark Pattern Design, Marker Making/Nesting System
AccuMark helps you increase productivity and accelerate time to market
The next generation of AccuMark software will help you:
Work better
Increase your throughput by up to 50%. Create efficient spread and cut plans that fit with your unique production environment. Powerful, but flexible: AccuPlan makes the most of your existing marker library to optimize your workflow while saving labor and material cost.
Work faster
Cut your development time by two weeks. Save steps and reduce errors using smart patternmaking tools in AccuMark. Easily communicate design details and information outside of AccuMark using new integration tools with YuniquePLM.
Work smarter
Reduce your physical samples by up to 50%. By visualizing your samples in AccuMark 3D, you can make design decisions quickly without the time and resources it takes to make sample garment. Instantly make pattern changes and adjust image locations effortlessly on the virtual sample.
AccuMark software gives you the ultimate competitive advantage.
Categories: AccuMark, Pattern Design & Cutting, Product areas, Software
Product Description
AccuMark software contains the most comprehensive set of pattern development tools in the industry, along with many other features to meet the fast-changing needs of today's manufacturers.
The world's leading apparel brands depend on Gerber Technology's innovative AccuMark software to design, develop and market their products as quickly and efficiently as possible. Now the dynamic new AccuPlan and AccuMark 3D modules take your speed and efficiency to a whole new level. AccuMark Pattern Design Software (PDS) offers a complete toolset of functions for patternmaking and grading. AccuMark PDS helps the patternmaker and grader improve quality, and create and grade more patterns in less time. Accumark PDS meets your current need to automate for increased productivity, while retaining creative control. It also includes "Marker Making" which is a nesting software.
AccuMark is available in two levels: AccuMark Professional, which is a full version and AccuMark Advanced which is a simpler version more suited to the transport, furniture and composite industries.
Gerber AccuMark Proffessional Edition-PDS, pattern design for the fashion and apparel industries
Gerber AccuMark Proffessional Edition-PDS-GMS, pattern design/nesting software
Gerber AccuMark Advanced Edition-PDS, pattern design för the transport, composites and furniture industries etc.
Gerber AccuMark Advanced Edition-PDS-GMS, pattern design/nesting software
AccuMark MTM "Made-To-Measure" for Apparel/Fashion creates custom orders for a perfect fit.
In an environment where items are custom made to an individual's unique style and measurements, it's important to provide the perfect fit garment as quickly as possible. Gerber's AccuMark Made-To-Measure (MTM) meets the complex needs of the tailored clothing industry. It is the only software solution that provides true automation from pattern modification through advanced rule based specifications and order creation.